At DORNBACH, we create careers
At DORNBACH, we create careers.
Starting at DORNBACH as a pupil
With your school-leaving qualification in hand, you now want to start your professional life, gather experience and decide on a promising professional path. Those who wish for challenging responsibilities and a well-founded professional apprenticeship will find interesting opportunities at DORNBACH – for example, in a dual course of study or a classic apprenticeship.
Starting at DORNBACH as a student
Whether your degree is in the economic sciences, law or a similar subject – you are certain that you want to deepen your academic knowledge and complement it with practical experience. This is precisely what awaits you with us. At DORNBACH, we offer students internships, as well as the opportunity to write their theses here. Within a course of study alongside your job, we support you to combine theory and practice.
Starting at DORNBACH as a graduate
With your degree completed, you are now ready for the next step and looking for the best possible start to your professional career. At DORNBACH, you can succeed. With interesting clients, challenging responsibilities, varied development opportunities and a team which is both excellent and empathetic, we create the best platform for your career. Naturally, this can also include studying for your master's degree alongside your job.
Starting at DORNBACH as a young professional
Naturally, we also offer our trainees the opportunity to start work at DORNBACH after successfully completing their apprenticeship. With our broad spectrum of development courses, you have the opportunity to quickly develop your professional and personal skills, gather experience and obtain further qualifications. This also applies to young professionals who have completed an apprenticeship elsewhere.
Experienced professionals
Taking on more responsibility and being able to operate as a competent expert for clients, as well as "behind the scenes" in the office, in IT, as an assistant auditor or in accounting – this is precisely what we offer applicants with professional experience. We have locations all over Germany and work in cooperation with renowned international networks.
Just five steps to a successful application
So that you know what happens to your application after you submit it, here is the ten-minute DORNBACH application process in just five steps: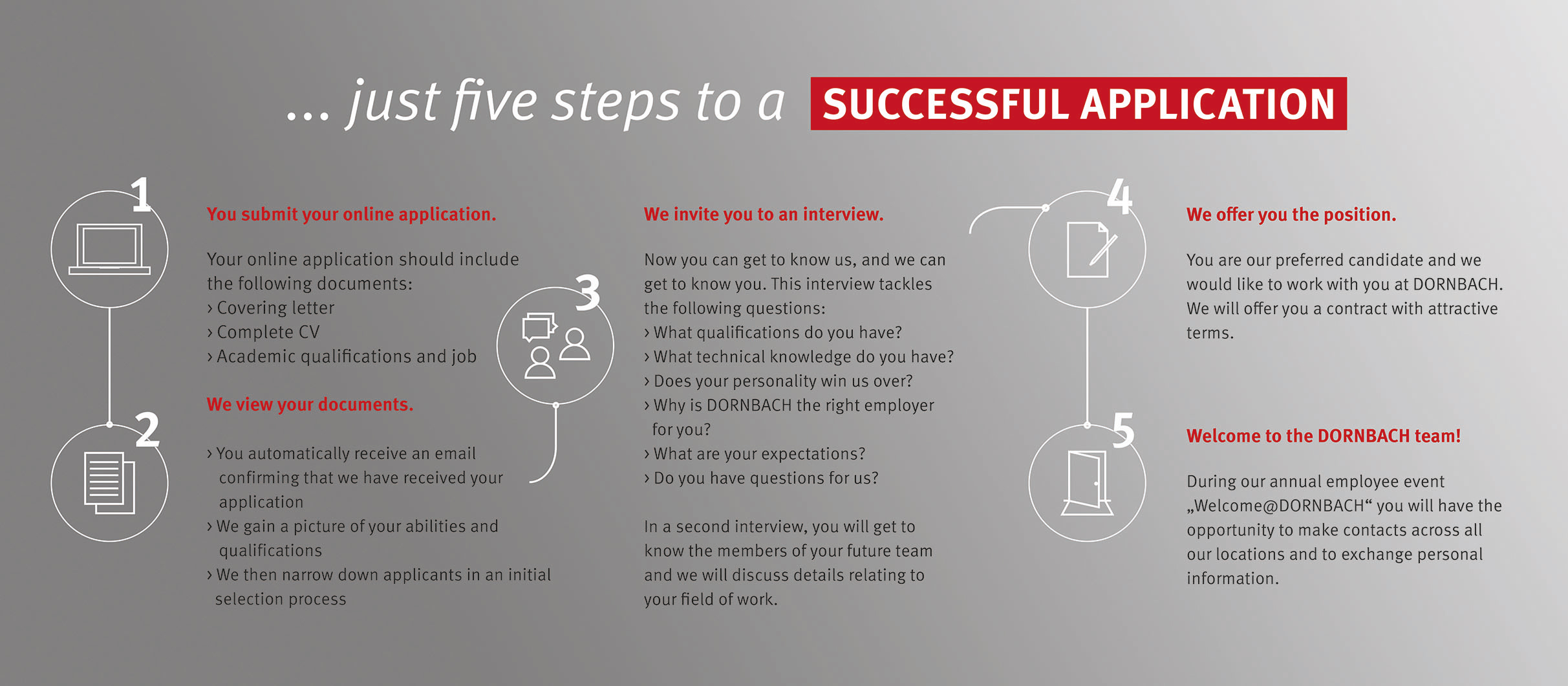 ×
Important note
Of course, we know that you would like feedback on your application as soon as possible. However, in order to gather a meaningful impression of your ability and personality, we need a little time. Accordingly, you should expect to wait for around four weeks before hearing from us.

Application tips
Don't forget anything: your documents
A clear CV in tabular form, as well as copies of your most important qualifications, job references and other certificates – these are the documents we require. If you are a non-EU citizen, please send us your residence permit, either as a scan or in digital format.
Be specific: your information
Make your application for an internship, working student position or thesis specific – please tell us your desired time frame and whether you are applying for a voluntary or mandatory internship.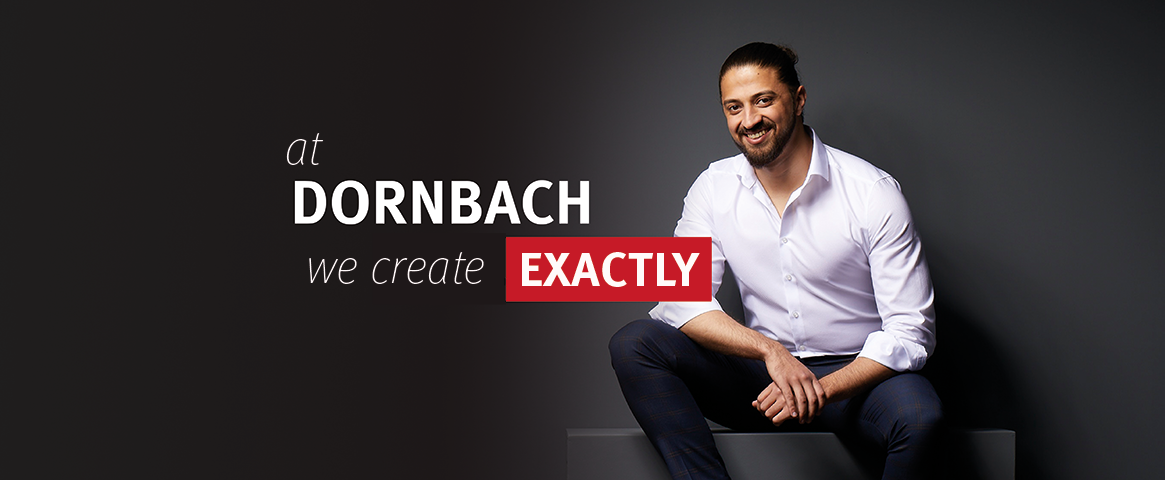 Be genuine: your interview
When you receive an invitation to interview, you are already one step ahead of other applicants. We are looking forward to getting to know you and finding out what you want in the future and which topics interest you. Be genuine and be yourself. Remember: not only are you trying to win us over, we are also trying to win you over.
Look closely: proofread
Typos or grammatical mistakes do not leave a good impression and should be avoided at all costs. Ask friends or family to read through your application and check for errors.
Be different: individuality
Of course, certain rules of applications must be followed. However, you should avoid making a standard application, as these tend to have smaller chances of success. Put aside empty phrases, give your covering letter a personal touch and emphasise your positives.